"We are a couple of friends who like to have sex, play with fluids, and spend nights full of new experiences."
Alan and Kevin are two of the hottest men on gay cams. They love pleasing their fans with roleplay games and ass play. It's one thing to find a cute guy who's willing to play with his ass on live porn, but when he's got his buddy there to join him…that makes the show extra memorable.
These guys have been on OhMyButt.com for more than a year now. Their videos are nothing short of amazing with dick shots and LOTS of fucking.
In an exclusive interview, Alan and Kevin had plenty to say about being fuck buddies on live gay porn. They opened up on their future plans, sexual preferences, and the amazing fetishes that make them thirsty for more.
Check out the full interview and be sure to check these hunks out in your next show on OhMyButt.com!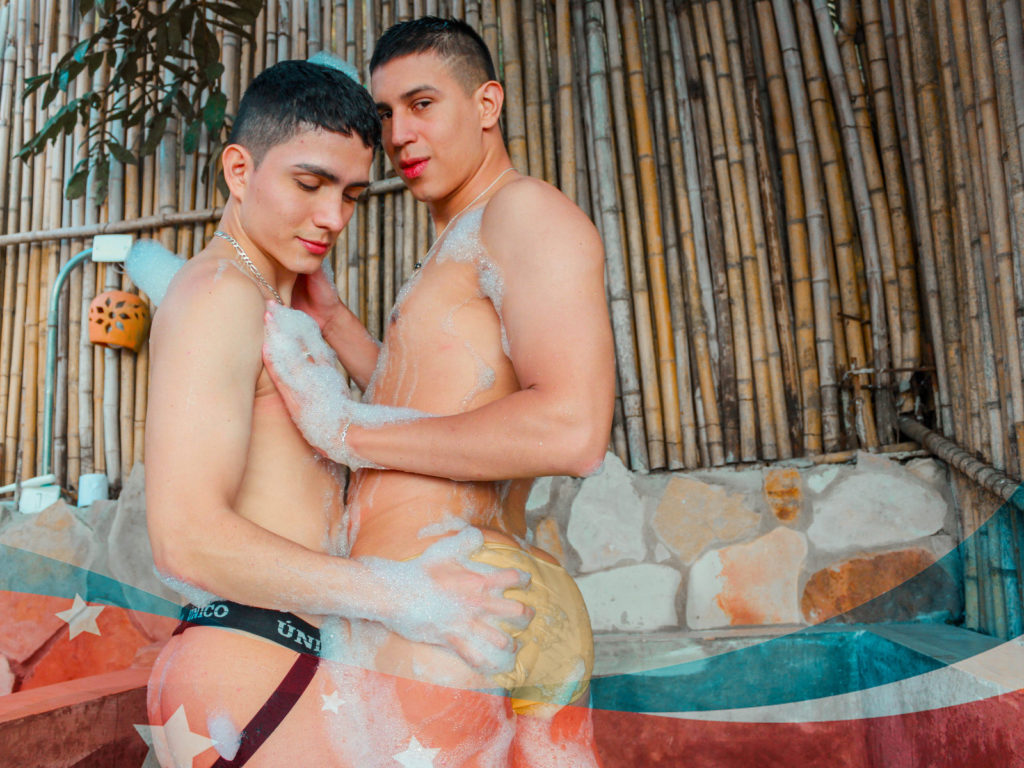 Why did you two decide to be webcam models? 
The freedom to express ourselves as we are in a space free of prejudice and to be able to manage our own time and improve our lifestyle.
How did you two meet?
We met in high school in our last grade. We were very compatible together so we became very good friends and things were flowing as the years went by.
What's your relationship status? Boyfriends? Fuck buddies? Co-workers?
We are friends with rights, with benefits, very close. There is always respect and trust between the two of us.
How long had you known each other before you got into camming?
About 3 years.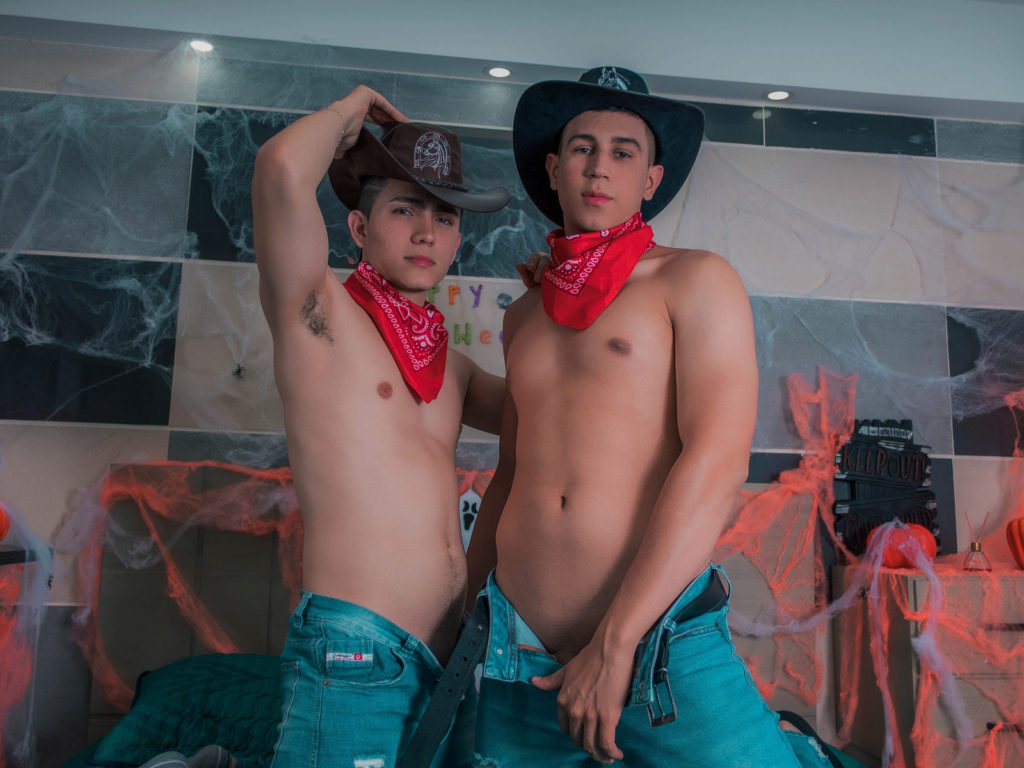 What do customers usually notice about you guys first?
Users tell us a lot that we are very sensual. Also, that we are very affectionate and lucky to have each other.
What do you love most about being cam models?
We love the interaction with users, customer satisfaction, and feedback from each of them.
Favorite summer activity to do together?
We love to travel, explore, and learn about the great and diverse cultures of our own region.
What is something naughty you guys have always wanted to do outdoors?
We would like to have sex in the sea or on the beach.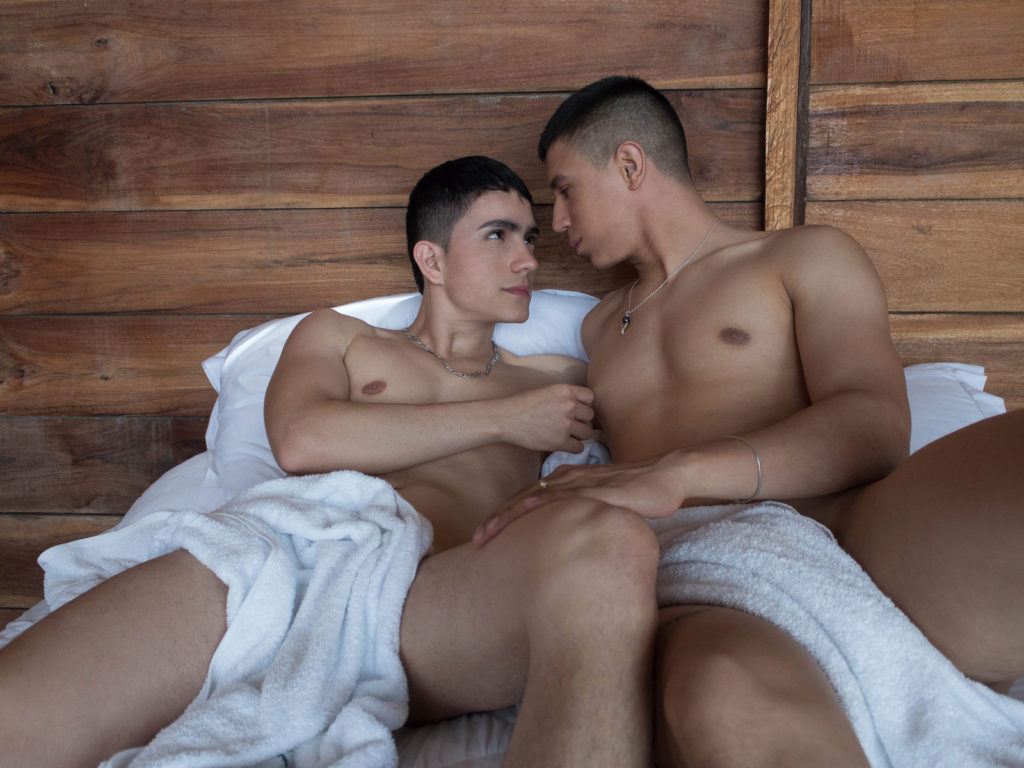 Where do you hope to be five years from now?
We hope to be able to finish our studies, grow professionally, and also acquire our own home.
What does gay pride mean to you guys?
Our concept of gay pride is the society that accompanies us in the acceptance of our sexual identity.
How often do you fuck when you're not on camera?
Our way of working is only professional so we don't do that off-camera.
Who's more of the top or bottom?
Kevin is more bottom and Alan is more top.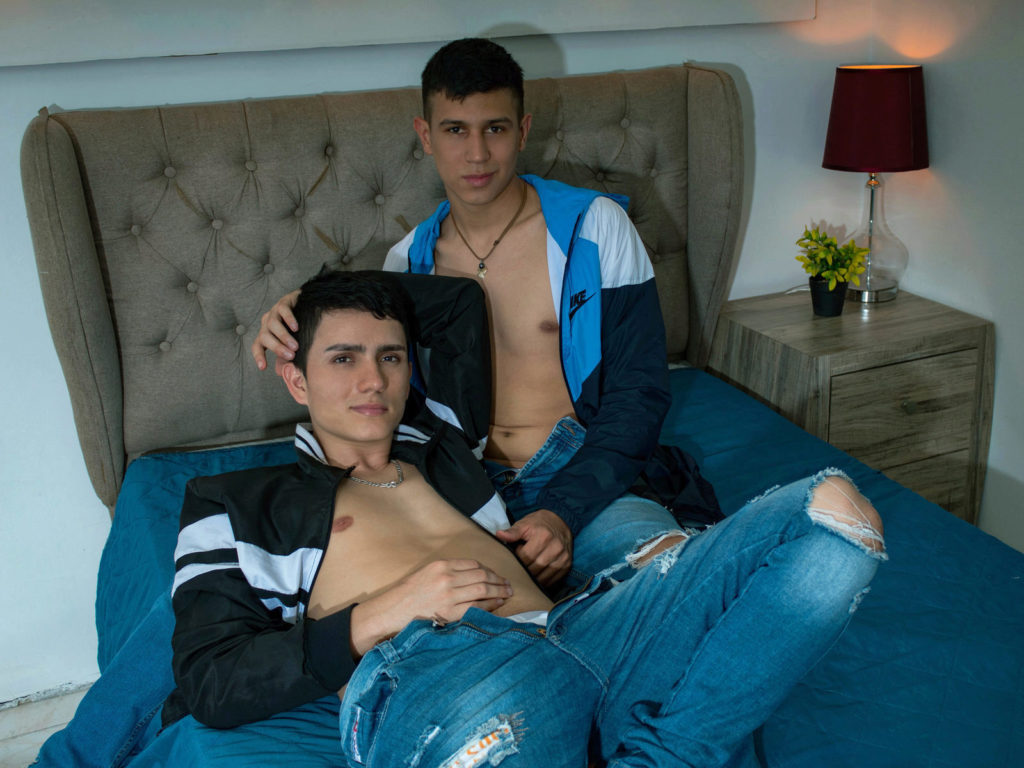 Favorite spot for your guy to cum?
On the face or mouth.
Favorite fetishes?
Alan: I love to feel saliva and fluid like sweat and semen.
Kevin: I'm really crazy about ass. I'm really turned on by everything I can do to enjoy a good ass.
Favorite sex positions?
Alan: Missionary.
Kevin: Doggy syle.
What is your favorite length of show?
Our favorite shows are when the client gives us the freedom to explore ourselves and enjoy the show among those present.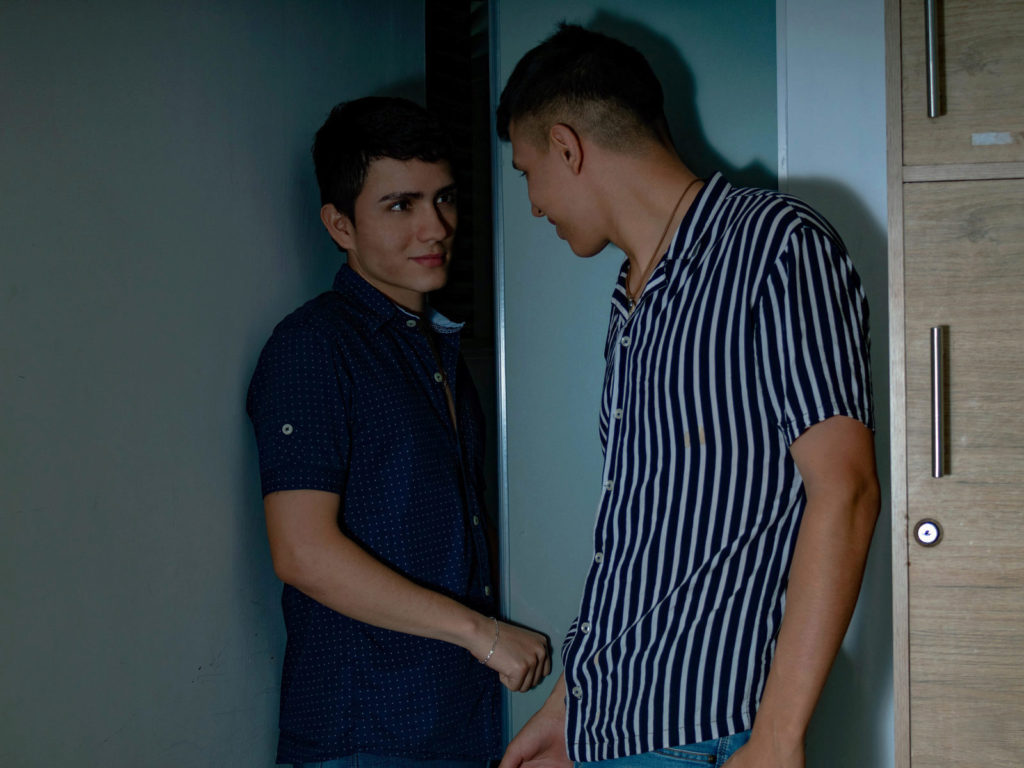 What is the weirdest thing a customer has asked you to do?
Make our asses kiss.
Any shows planned for the summertime?
We plan to do our first show in the shower.
What is your guys' ultimate sexual fantasy?
Interracial threesome.
Ever fucked in a public place?
Alan: Yes, I have done it in shopping mall restrooms and tourist viewpoints.
Kevin: Yes, I have done it in natural outdoor areas.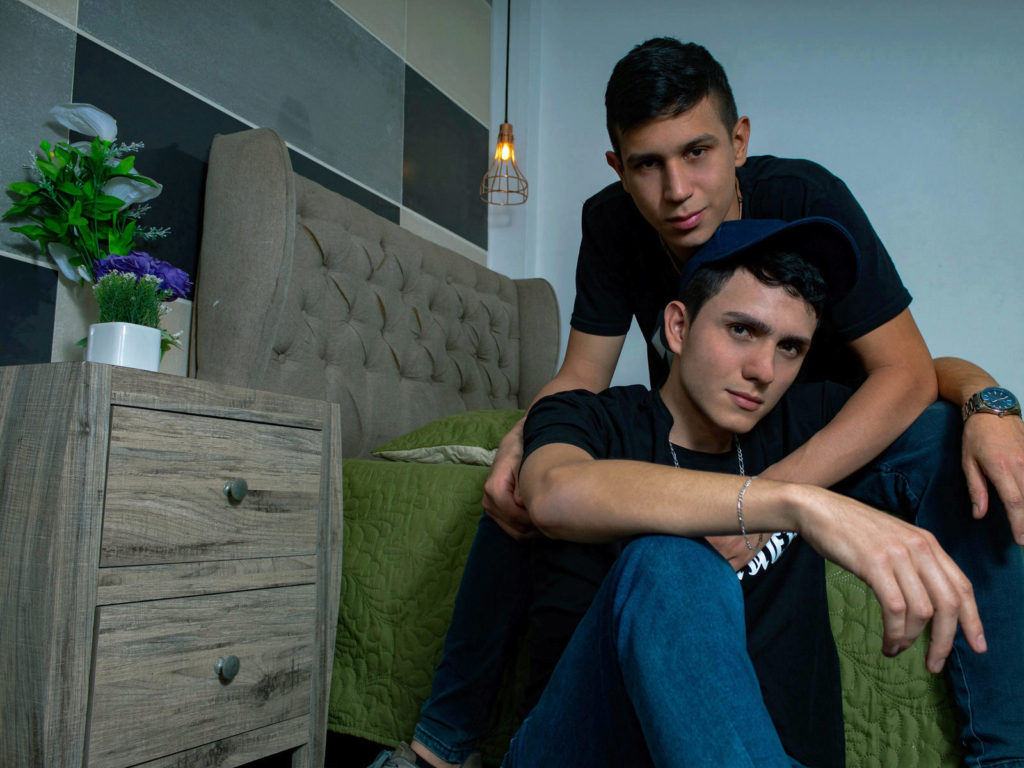 Where do you guys want to go most on your next vacation?
We would like to go to a country with sea, sun, and beach.
What do you wish someone would ask you in chat, but nobody does?
We would like to be asked about more personal things, to get out of the superficiality and technological monotony in which we live today.
What is the first thing that goes through your minds when you're about to start camming?
We always think about being emotionally well and with an adequate presentation so that the atmosphere is pleasant to share.
What is something you would like to do on cam that you haven't tried yet?
Change our scenery or move from our room to any other place.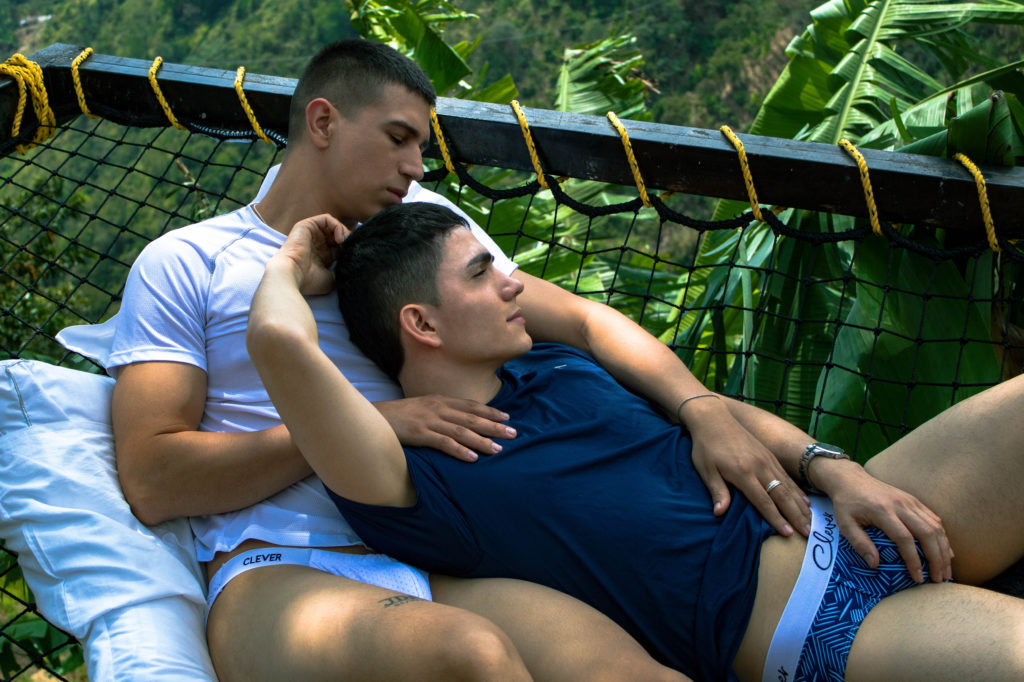 Best way for a customer to break the ice with you?
When the user always starts the conversation and they are clear about what they are looking for.
What country has the wildest customers?
Americans.
Outfit that gets the most responses when you wear it on cam?
Small and tight underwear.
What's the next thing you plan to add to your room?
A natural plant.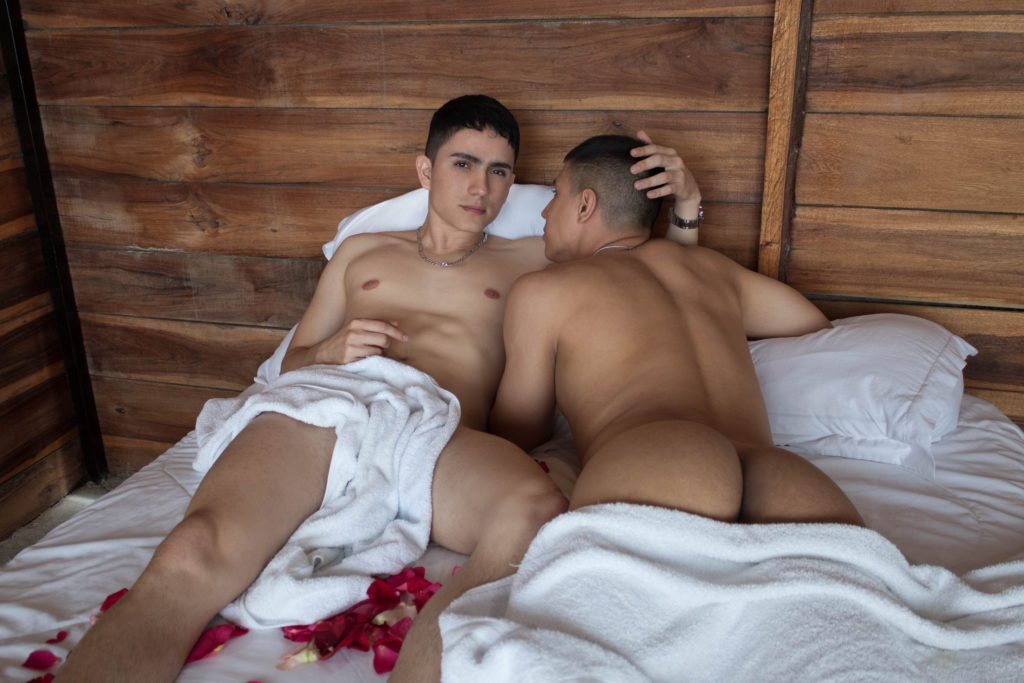 What have you discovered about yourselves since becoming cam superstars?
We have discovered that we like to focus on pleasing others in the way we are and expressing our bodies.
Can you recall the sexiest moment you've had while camming?
When we do a show in oil. It makes our bodies feel super sexy.
How would you compare yourself from the time you started as a cam model to where you are now?
Self-esteem. We remove many barriers that people have as we grow up.
What tips would you suggest for someone else who wants to be a cam superstar?
Perseverance, consistency, and discipline are fundamental to succeed.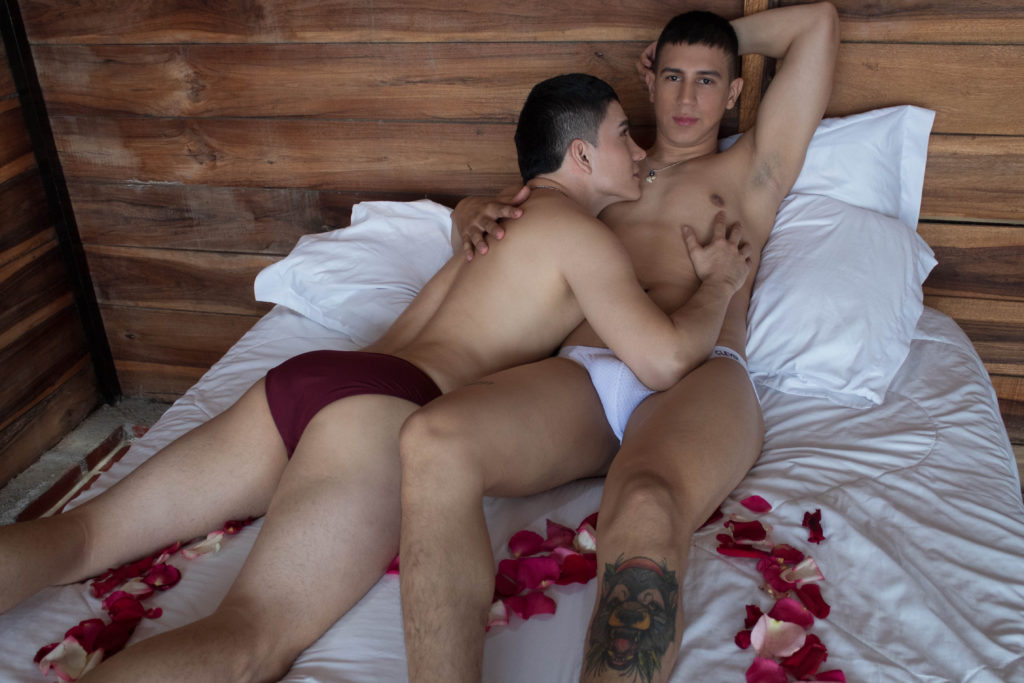 Who is your other favorite cam star?
Belami Colton.
What were you like before camming?
Alan: Cook, haute cuisine, gastronomy.
Kevin: Environmental technician.
Biggest turnoff a customer can do?
When they talk about dirty or very forbidden things.
How do you like to cool off when it gets hot?
Going outdoors, swimming pools.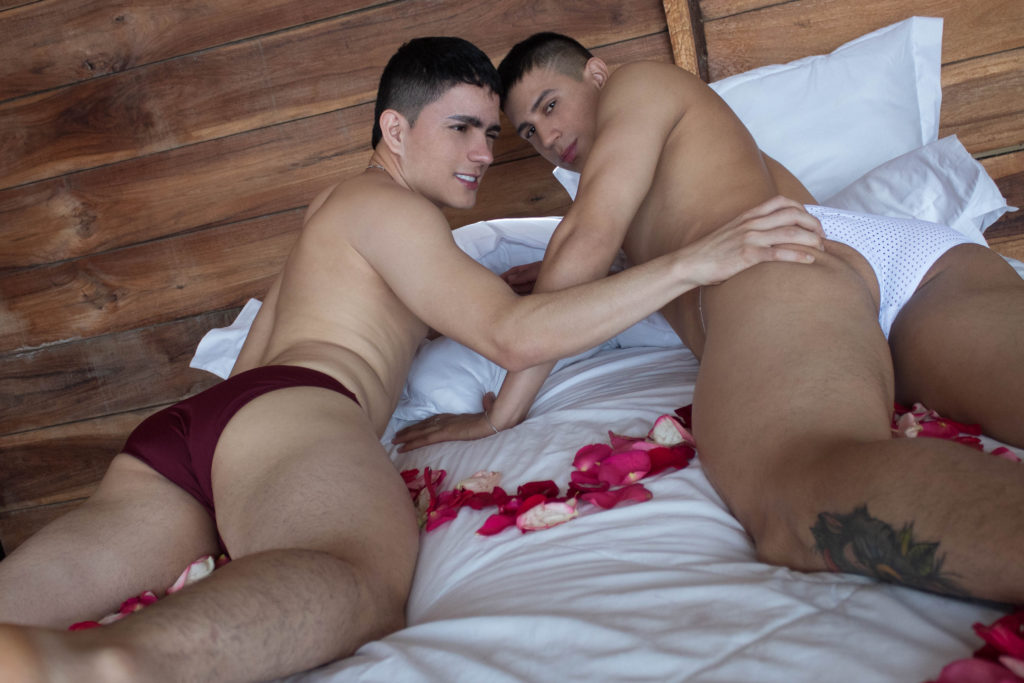 Any naughty summer memories?
When we rented a place outdoors so we could discover new sexual things to each other.
What are you proudest of?
Alan: I am proud of the new lifestyle I lead with myself (more discipline).
Kevin: I am proud of the physical and emotional growth I have acquired over the years.
How many languages do you speak? Which ones?
Spanish and a little bit of English.
If you weren't camming, you would be ________
Alan: A businessman.
Kevin: In the military forces.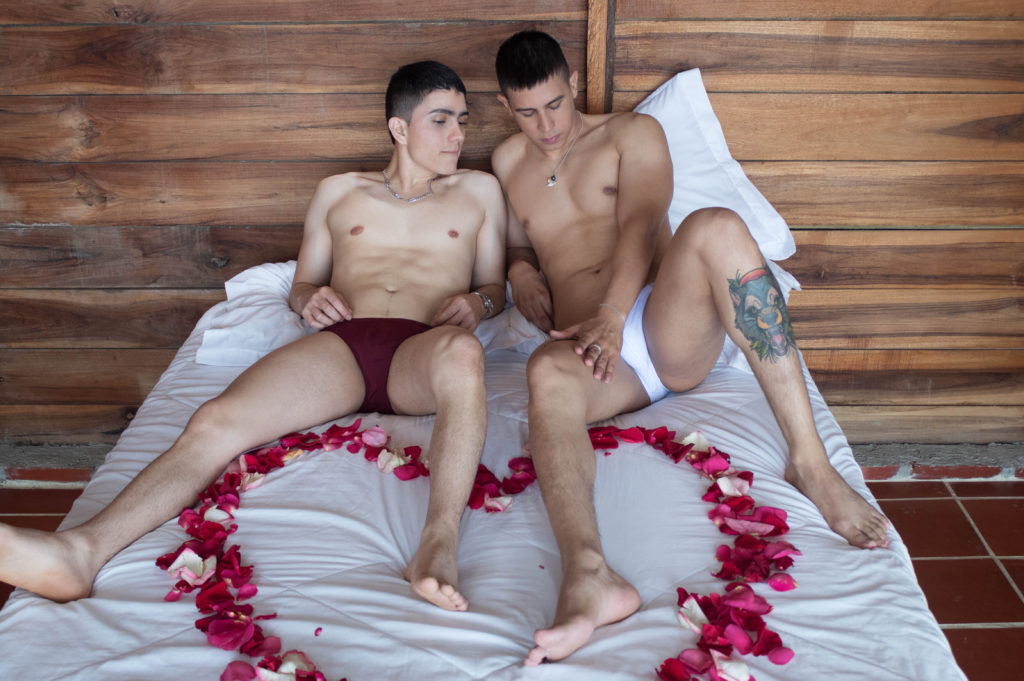 What are your goals for the rest of 2023?
Alan: Create a food environment and invest more time in my hobbies.
Kevin: I want to start taking language classes to train professionally.
A trait about you that you wish customers noticed more?
Alan: I would like them to realize that I am very good at dancing and they can appreciate it as much as I do.
Kevin: I would like them to notice my smile more so they can see how nice I can be.
Physical feature you find the most attractive in another person?
Alan: The chest and the ass.
Kevin: His eyes and his smile.
How do you stay positive when times get rough?
Alan: I like to meditate and reflect on the good and bad things I have done in my life.
Kevin: Keep calm to realize I've been through worse and I've come out of it.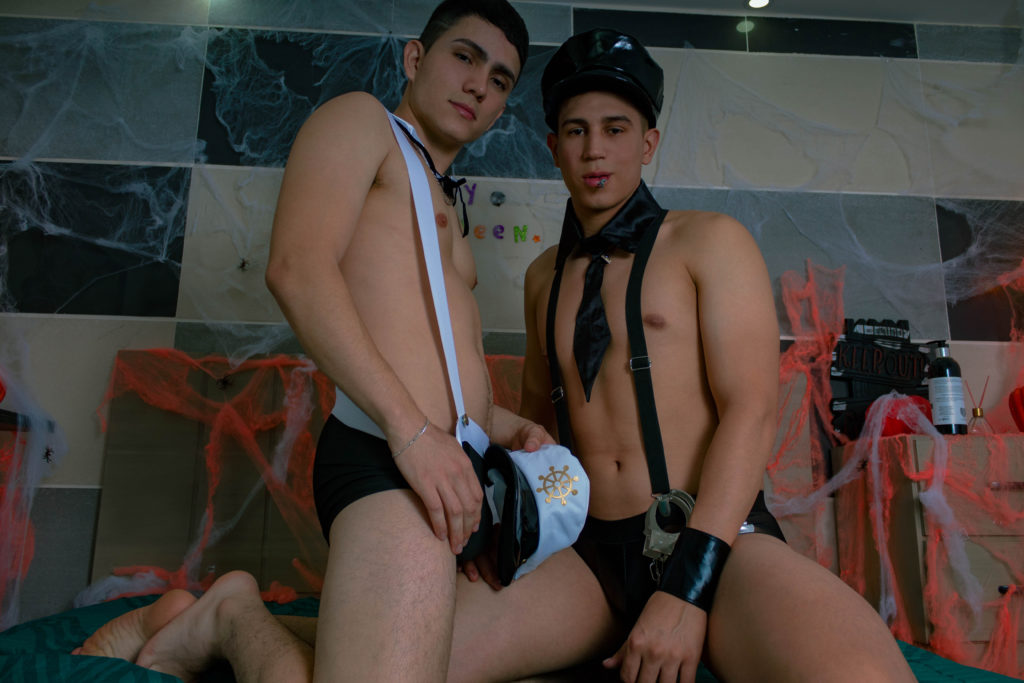 What is something you wish you were better at?
Alan: I would like to be more disciplined in the sport, to be able to make it more bearable in my life.
Kevin: To maintain concentration in different life situations.
What are your tips for anyone who wants to be as beautiful as you are?
Alan: My tips would be: keep good hydration, good skincare, and a good cup of coffee to start the day.
Kevin: My advice would be: a good diet, good physical activity, maintain good personal care because it reflects one's own beauty.
What is the best way to make a dream come true?
Alan: For me, it is necessary to be aware if the dream can really be fulfilled and to look at all the viable ways to achieve it.
Kevin: Be constant and work to achieve what you dream of.
Craziest place you have had sex?
In the bathroom of the house in the middle of a family reunion.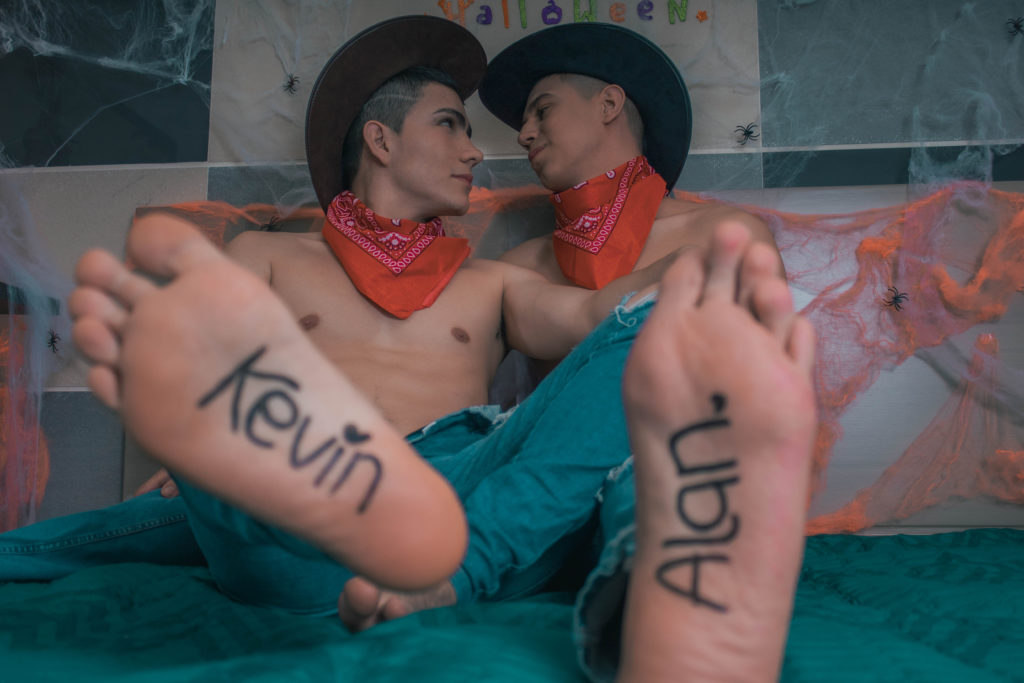 What customer trait turns you on the most?
When we were able to hear his voice.
Have you ever gone nude on the beach?
Alan: Yes.
Kevin: No.
What is the highest number of orgasms you've had in one session
Alan: 5.
Kevin: 4.
What is your sexiest feature?
Alan: My ass and my legs.
Kevin: My look and my smile.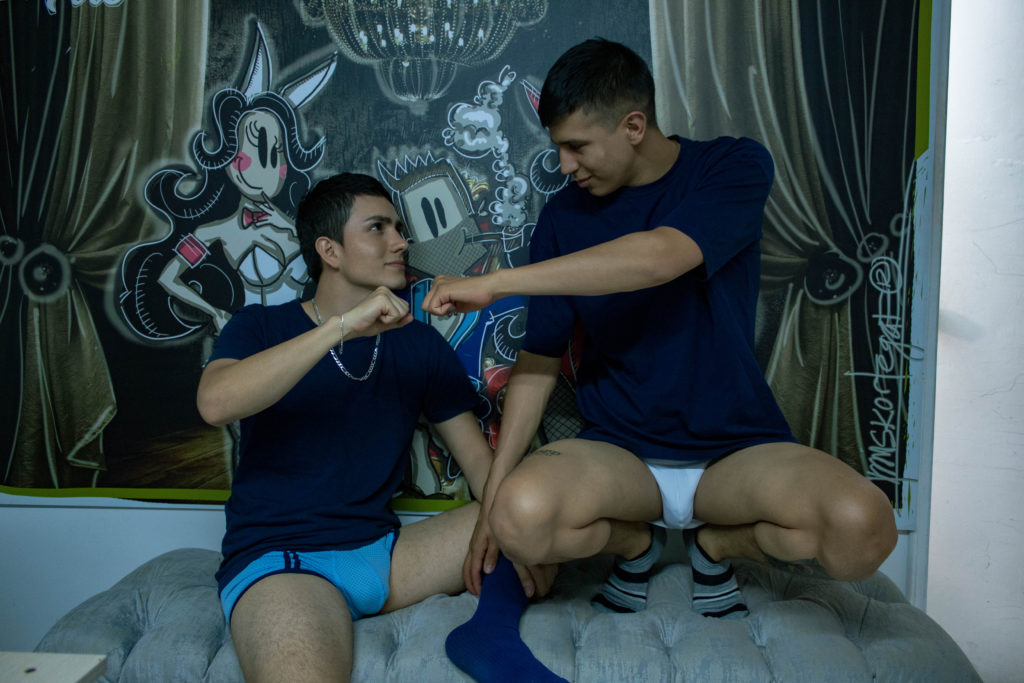 How did you lose your virginity?
Alan: I was with a friend in the restrooms of a shopping mall.
Kevin: I lost her to a schoolmate.
Best blowjob tips?
Alan: Saliva and make sure that the stomach is empty before doing so.
Kevin: Maintain a steady pace, start soft, and finish deep.
What does sexy mean to you?
Alan: To know how to express with my body and voice a feeling of seduction.
Kevin: To have a fixed gaze, a mischievous smile, and mutual flirtation.
Tips for a stronger orgasm?
Alan: To be aware of the rhythm of breathing and pressure I exert on my penis in the way I play with it.
Kevin: I like to be carried away by the moment and let my mind fly in my imagination while I'm touching myself.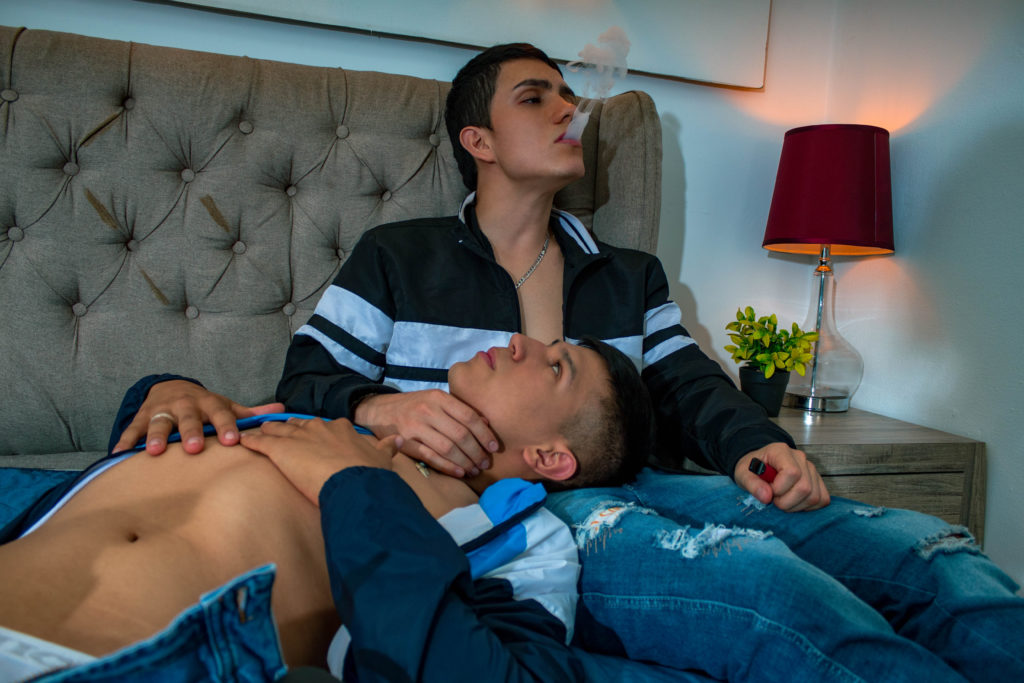 Tips for how to enjoy a toy better?
Alan: Lots of lubricant and privacy.
Kevin: Place it in the right spot and enjoy it.
Best way to make you cum on cam?
Alan: Lying on the bed with my feet up, getting a good kiss while touching my nipples.
Kevin: Sitting comfortably while you lick my balls.
Dick size preference?
Alan: 6.6inch – 7.8inch.
Kevin: 7.9inch.
Give oral or receive oral?
Alan: Receive.
Kevin: Give.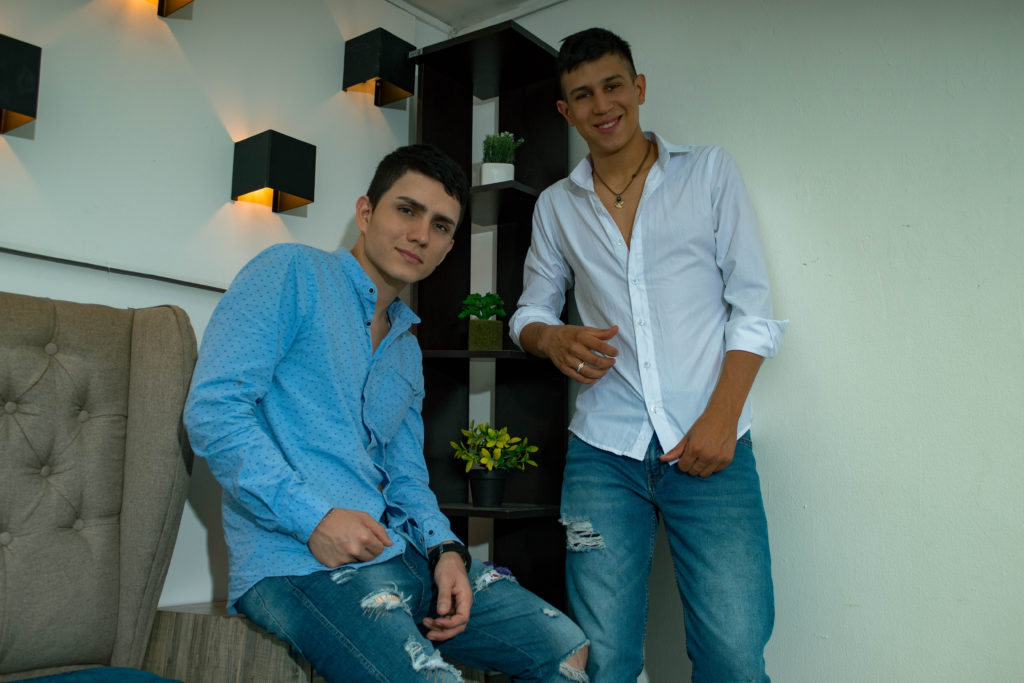 How did you become so good at the art of seduction?
Working as webcam models.
Spanking or hair pulling?
Alan: Spanking
Kevin: Both.
What fictional character or celebrity sparked your sexual awakening
Alan: Nick Jonas.
Kevin: Angelina Jolie/Andrew Lincoln.
What's a hilarious hook-up story you've had?
Alan: When I was about to cum, I fell off the bed.
Kevin: When I discovered that queefing existed.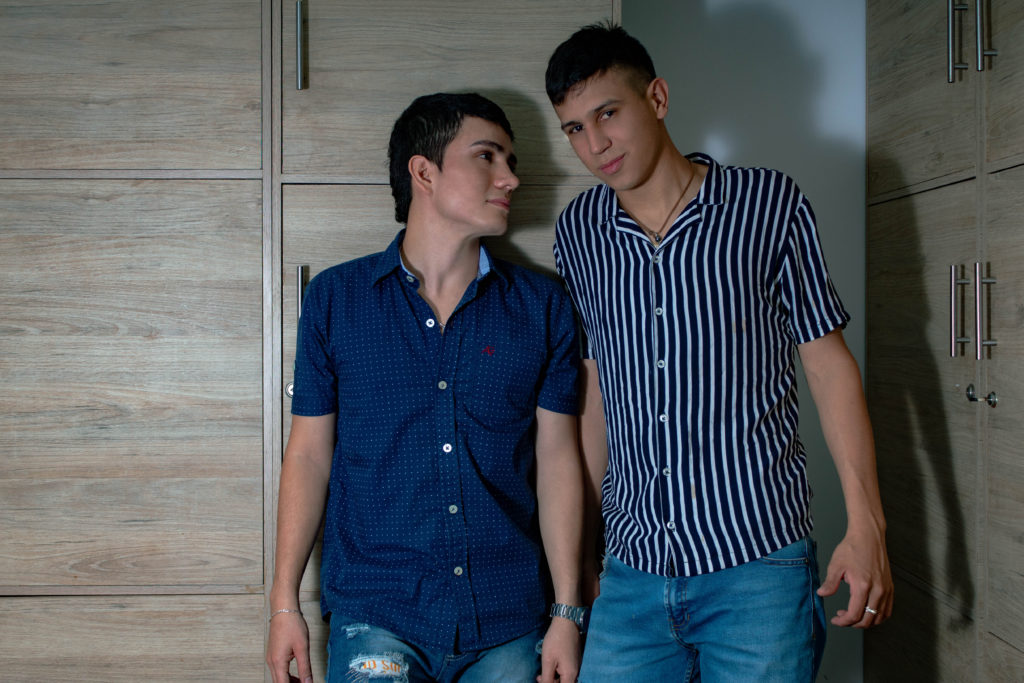 Best country to visit?
Colombia.
Favorite toy?
Lovense.
Favorite spot to be kissed?
Alan: In the space between the butt and the testicles.
Kevin: Ears and back.
Favorite role-play scenarios to act out?
Alan: Kidnapper and victim.
Kevin: Trainer and student.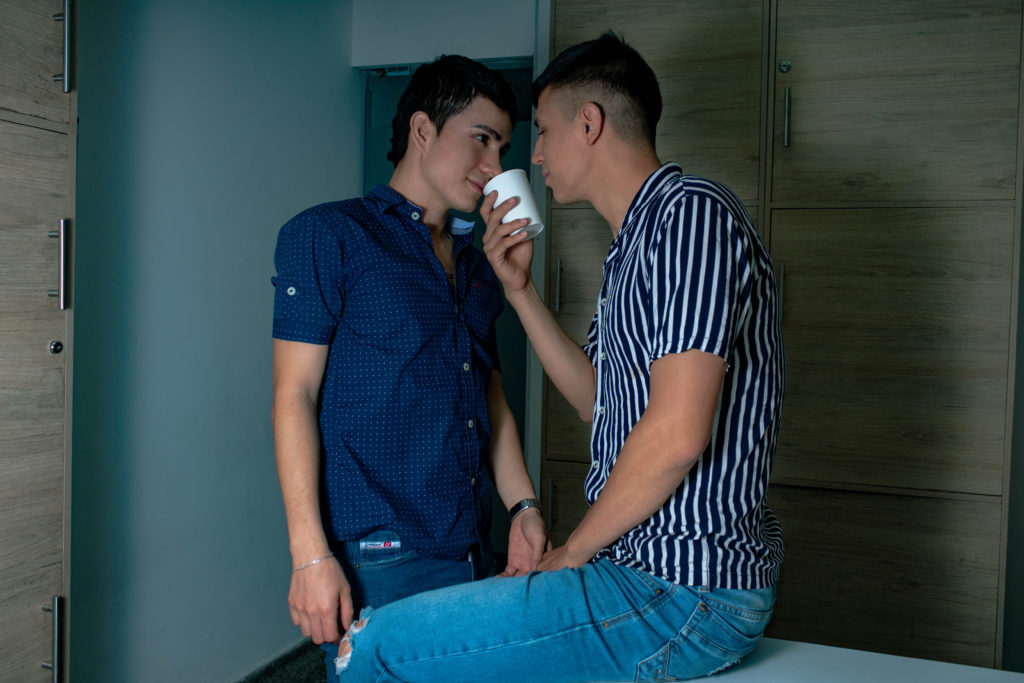 Favorite kind of underwear?
Thong.
Favorite kind of porn to watch?
Alan: Interracial.
Kevin: Bisexual.
Favorite ice cream flavor?
Alan: Blackberry.
Kevin: Rum and raisins.
Favorite movie?
Alan: Van Helsing: The Monster Hunter
Kevin: Resident Evil.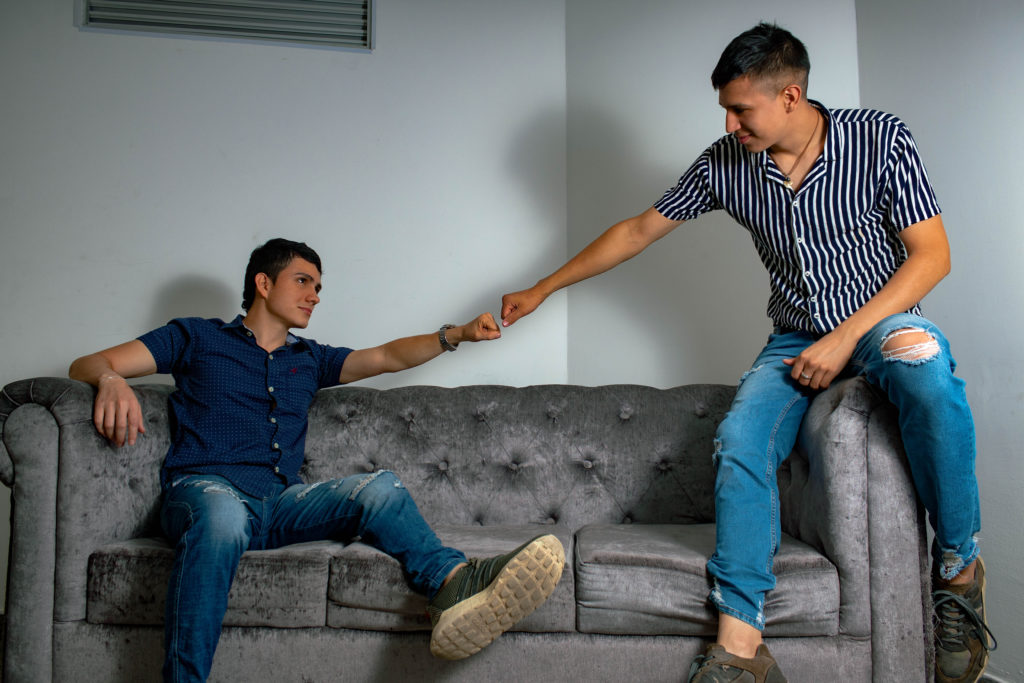 Favorite hobbies?
Alan: Traveling.
Kevin: Jogging.
Favorite Disney character?
Alan: Kim Possible.
Kevin: Stitch.
Favorite alcoholic drink?
Alan: Tequila.
Kevin: I don't like to drink alcohol.
Favorite superhero?
Alan: Flash
Kevin: Hulk.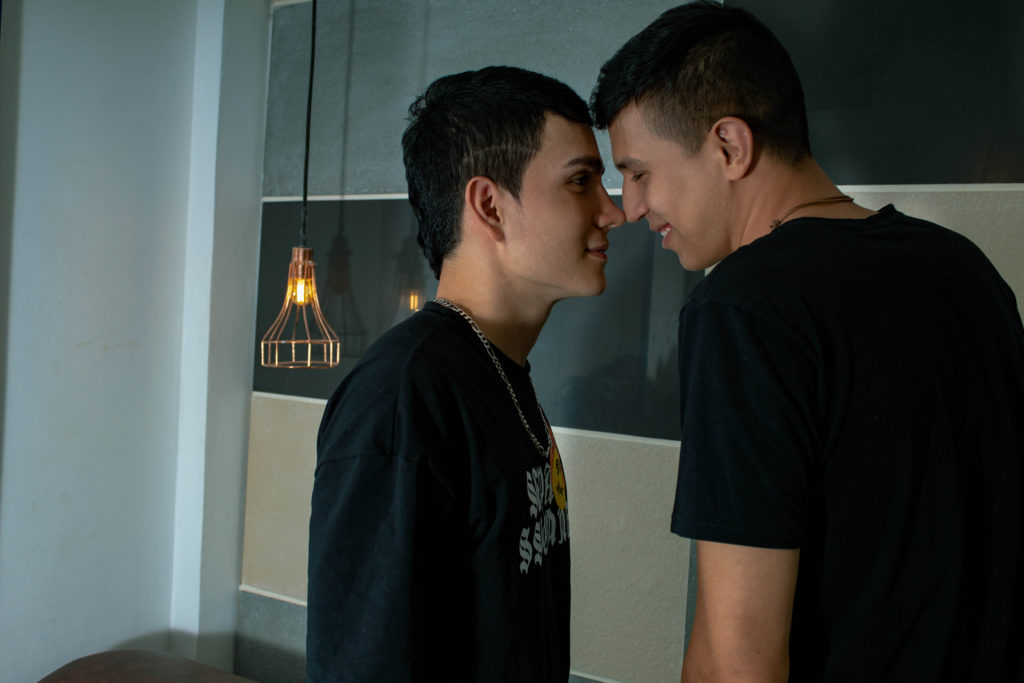 Favorite quote?
Alan: "When there's a will, there's a way."
Kevin: "With age comes wisdom."
Favorite body part to work out?
Alan: Chest.
Kevin: Legs.
What is your dream car?
Alan: Ford Explorer Limited.
Kevin: Toyota Hilux.
Would you rather stay home and watch Netflix or go out to a club?
Alan: Club.
Kevin: Watch Netflix.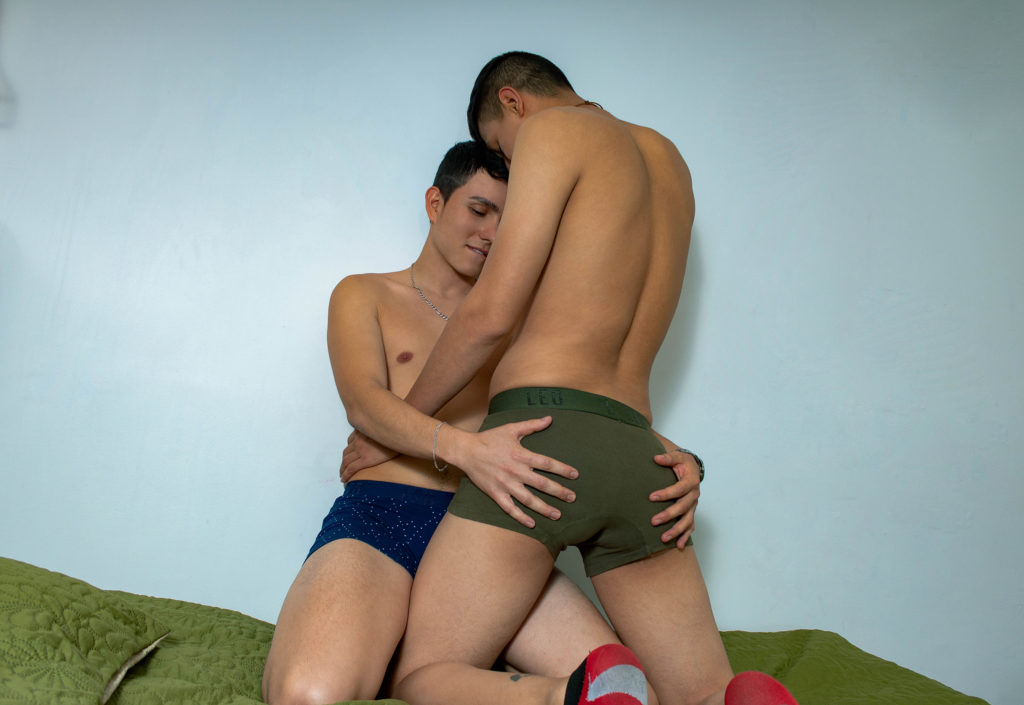 Who is your celebrity crush?
Alan: Jason Momoa.
Kevin: Logan Lerman.
What does a perfect date look like to you?
Alan: Outdoors.
Kevin: In a restaurant with good food.
Best way to show affection?
Alan: Being attentive and caring about the person.
Kevin: Be respectful, caring, and loving.
What is your spirit animal?
Alan: Buffalo.
Kevin: Bald eagle.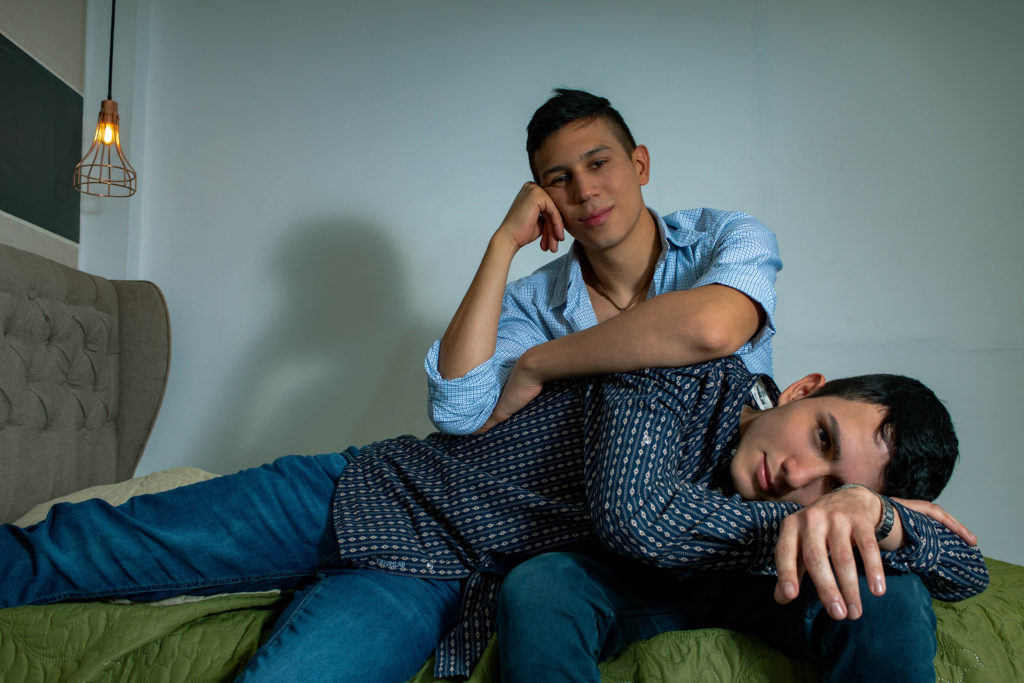 What's an unusual skill you have?
Alan: I am able to get erections quickly and easily.
Kevin: Move the stomach in sea wave mode.
What do you geek out on?
Alan: Cooking. My love for cooking amuses me.
Kevin: Going to the cinema and working out.
If you could have one superpower, what would it be?
Alan: Control of the four elements.
Kevin: Teleportation.
What TV show are you binging right now?
Alan: Lucifer.
Kevin: The Walking Dead.
Is there anything else you would like fans to know?
We would like them to know that we really appreciate them and like to share our time with them. We value their daily visits just to say hello.